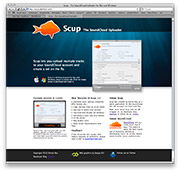 That's right, Scup is now out of beta! You can grab the 1.0-release from the newly designed website dorianroy.com/scup. If you have already installed Scup, you should get the update automatically the next time you launch it.
And if you haven't heard of Scup before, here's what it's all about.
The new version allows you to enter extended track settings like BPM, video-URL, label name, song type, tags and more. I've also included a button to copy all fields from the set to all if its tracks, so you don't have to fill-in common fields like label name and license for each track of the set. Besides the new features, I've also added many little improvements (e.g. a signout-button) and bugfixes(removed tracks are now deleted on the server). The interface got some polish, too (smoother fonts, iPhone-like buttons).
Let me know what you think of it in the comments!